Pei-ju Teng | Hong Kong Free Press
Taiwan's incumbent leader Tsai Ing-wen has won Saturday's presidential election, defeating her Beijing-friendly rival Han Kuo-yu by a wide margin.
Taiwan President Tsai Ing-wen greets supporters after winning the presidential election on January 11, 2020. Photo: Sam Yeh/AFP
"Taiwan is showing the world how much we cherish our free and democratic way of life," Tsai told supporters at 9pm as she confirmed her victory.
DPP supporters rally in Taipei on January 11. Photo: KM/United Social Press.
A jubilant crowd of supporters outside the Democratic Progressive Party (DPP) headquarters in Taipei burst into cheers as Tsai appeared on stage to address reporters.
Democratic Progressive Party supporters rally in Taipei on January 10, election day. Photo: Viola Kam/United Social Press.
Tsai has polled comfortably ahead of her main contender Han, of the Kuomintang Party, since voting closed at 4pm on Saturday.
A pro-Hong Kong protester flag reading 'Free Hong Kong, revolution of our time' flies at a DPP rally in Taipei on January 11. Photo: KM/United Social Press.
With 8.1 million votes as of 10:30pm, Tsai won the highest number of votes of any presidential candidate in Taiwan's history of democratic elections. Han, on the other hand, received just over 5.5 million votes, according to the Central Election Commission (CEC).
Final results show Tsai received 8.17 million votes, or 57 percent. Han received 5.52 million votes, or 39 percent.

Over 14 million people voted, representing a 74.1 percent turnout, which is around 8 percent higher than 2016, but lower than Taiwan's early democratic elections.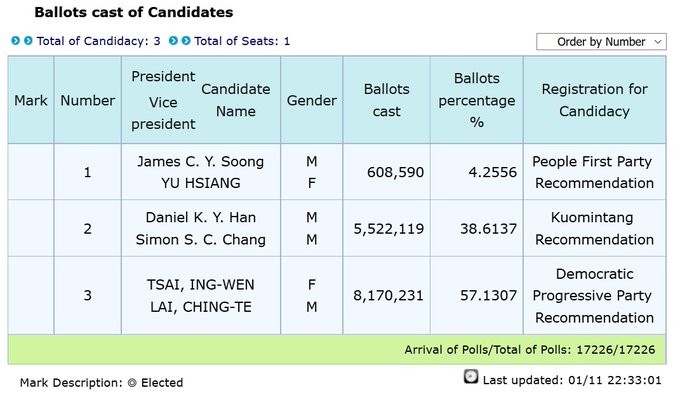 Hong Kong Free Press✔@HongKongFP
As to the 113-seat legislature, the Democratic Progressive Party has kept its majority with 61 seats, but with a slightly reduced margin, down from 68 in 2016. The Kuomintang has gained three seats from 35 to 38.