By Tadashi Kimiya | The Diplomat
In elections held in South Korea last week, the ruling liberal Democratic Party and its satellite Citizen Party won 180 seats of the 300 seats in the National Assembly. The conservative opposition United Future Party and its satellite Future Korea Party were meanwhile left with just 103 seats.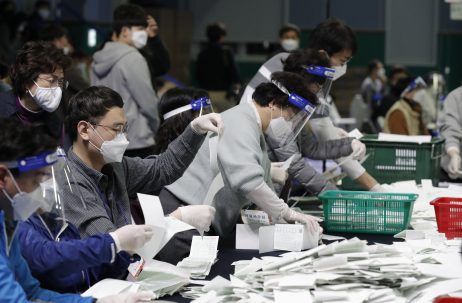 The resounding win frees the government from the limitations of the National Assembly Advancement Act, so that it is now able to legislate anything other than constitutional amendments. This was a historic election, even more so when taking into consideration that it took place under the extraordinary circumstances of the COVID-19 pandemic.
Some observers have argued that South Korean politics might be transitioning from a conservative/liberal two-party system to a liberal-predominant party system, like the conservative LDP-predominant party system that existed in Japan during the Cold War. However, if we look at voter turnout for candidates in single-seat constituencies, it was 49.9 percent for the liberal ruling party and 41.5 percent for the conservative opposition party, hardly a crushing difference. Moreover, in proportional representation constituencies, the other conservative opposition party actually finished first with 33.8 percent, leading the other liberal with 33.4 percent, a low figure even when accounting for the split in the liberal group.
Given these numbers, it is premature to conclude that we are at the start of an era dominated by a single party. Indeed, it is worth remembering that conservative votes accounted for more than 60 percent of the results in the 2007 presidential election 13 years ago, giving the conservatives a landslide win over their liberal opponents, despite a split between the conservative candidates, and bringing about a change of government.